Not sure which generator you need?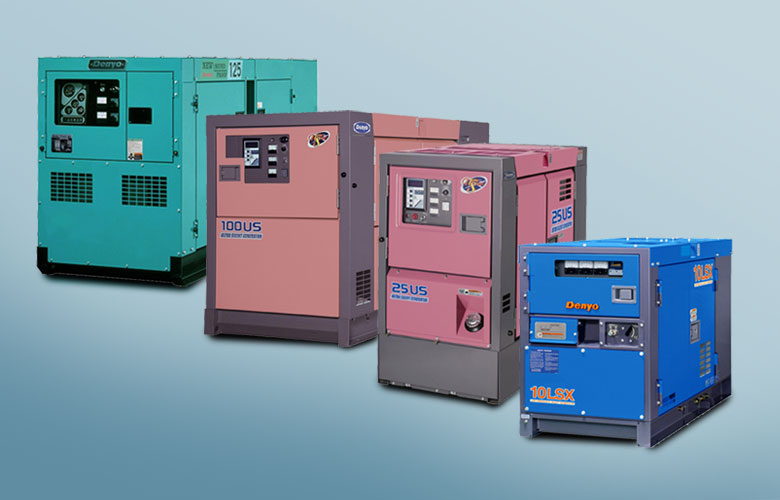 Please email us or call us at 501049, 515036 if you need further assistance through the important process of finding the correct generator for your application.
The most common question we receive is "How do I choose a generator?" There are a wide variety of generators available, but the primary differences are in watt size, engine size, and price. Basically, generators are made for three uses: recreational, emergency, and professional.
By taking the time to evaluate how many watts you need, you'll be able to find the right generator to fit your needs. You can refer to our wattage chart for a general overview of basic watt usage. The amount of power your portable generator can produce is generally expressed in watts.
Although there are many areas where you can save money on generators, such as opting out of special features, the one area where you should never compromise is the power output of the generator. Less wattage certainly means less cost, but if your generator can't run all of your basic appliances, it's not going to be able to do the job you're buying it for.
To determine the generator wattage you will need, add up the wattage requirements of the appliances and tools you need to run, and then add a safety margin so your generator never runs steadily at more than 50 percent of capacity.
Emergency Generators
Emergency generators can span a large variety of generator types, grades, styles, and categories. Many variations of portable generators and standby generators serve our clients in an "emergency" capacity. Depending on your wattage needs, you can select a generator in the 4,000 – 62,000 watt range to suit your preference for emergency preparedness. Emergency generators typically feature more powerful engines and larger fuel capacity than smaller recreational generators to help create power for important home appliances like refrigerators, lights, air conditioners, and home appliances. Because of their larger size, they can run for hours without interruption. They are designed to be both durable and affordable. Depending on your power needs and budget, one can spend from $500 to $20,000 on a variety of solutions. Check out the our latest selection of emergency generators.
Home Standby Generators
Home standby generators are most frequently purchased by our customers looking for most or all the conveniences of life throughout the vulnerable power outages they may experience. Depending upon the unit you purchase and your home's power requirements, home standby generators have the capacity to maintain one or two air conditioners, multiple refrigerators and freezers, laundry room(s), well-pumps, sump-pumps, kitchen appliances, furnaces, and pretty much anything you are used to powering in every day life without straining your generator. The investment level is greater and thus so is your comfort level. Standby generators most frequently burn natural gas and propane. Some units are equipped to burn diesel. Absolute Generators partners with Briggs & Stratton, Winco, Generac, Pramac, Cummins Onan, and others to provide the latest in home standby generator comfort.
Commercial Standby Generators
Commercial standby generators are some of the most sophisticated generators. When your company's livelihood, your patients' health, your facilities stored goods, or any host of critical commercial facility needs are at stake and power failure is not an option, you will be turning to a commerical standby generator to ensure stability and sustainability. Absolute Generators partners with Briggs & Stratton, Winco, Generac, Pramac, Cummins Onan, and others to provide the latest in commercial standby power.
Recreational Generators & Inverter Generators
Recreational generators and inverter generators are popular for both camping and tailgating, and both the prices and noise levels have dropped significantly in the past few years making recreational and inverter generators great investments for a wide variety of consumers. Most clients shop for recreational and inverter generators at or below 4000 watts because of the lighter weight, smaller size, and more affordable price point than other categories.
Professional Generators
These portable generators feature much more powerful engines, larger gas tanks, and are designed to run day in and day out servicing many users and a variety of needs. They are certainly larger and more expensive; however, they are built for the demands of the job site. Again, depending on your power needs, we have a wide variety of portable generators for job-site and professional use. These units are typically equipped with GFCI protected outlets, idle control, a robust slection of high capacity outlets, brushless alternators, copper windings, and the strongest warranties. Professionals can be expected to utilize these generators on a weekly, if not daily, basis.
Semi-Professional Generators
A small step down from the professional generators, these generators offer many of the advantages of the professional generators. Our customers in this category range from homeowners looking for a stronger life span and more robust attributes out of their portable generator to contractors and professionals that require a reliable generator at a more affordable price in an operation that may not be day to day.
Consumer Grade Generators
Consumer grade generators at Absolute Generators represents a selection of silent diesel powered generators, welder generators, and other affordable alternatives to premium priced professional generators that can be purchased at a fraction of the cost. Businesses, farmers, hobby farmers, ranchers, and do-it-yourselfers that need the strength and durability of a diesel generator, welder generator, or other generator at a fair price will find what they're looking for here in this category.
Fuel Types
For many people, the second consideration when shopping for a portable generator or standby generator is what type of fuel they would prefer to burn. Click here to explore Choosing The Right Generator Fuel Type.