About the lineup of 2-stroke Yamaha outboards used and loved by people around the world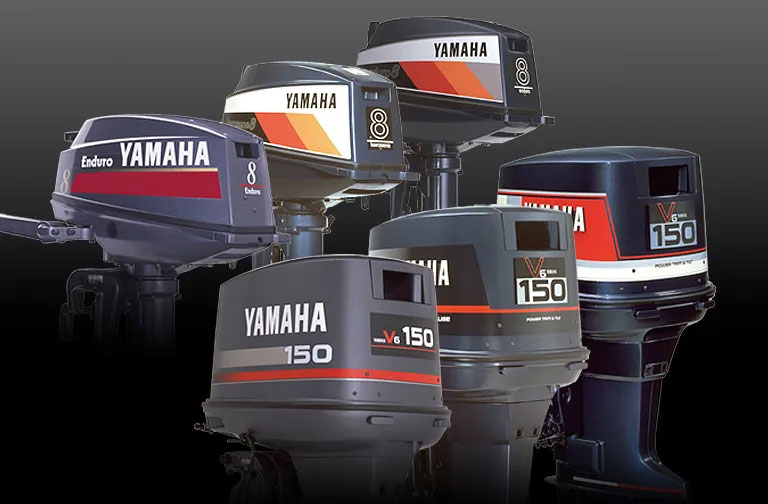 Yamaha 2-stroke outboard motors spread into the global market
Since Yamaha Motor began manufacturing and marketing outboard motors in 1960, they have found markets all over the world where people use and love them as trusted partners on the water, for work and leisure use. Among the growing lineup of Yamaha outboards, the 2-stroke models with their simpler engine structure continue to have a strong customer following. In order to meet the diverse and demanding needs of these devoted customers, Yamaha offers a selection of over 50 2-stroke model variations and over 20 Enduro models.
How did Yamaha Motor become the leading outboard brand on the global market? Two events were especially important in the spread of the brand's popularity. One was the decision to develop a line of Enduro models beginning in 1972. In many countries of the world where outboard demand is primarily for commercial uses, the water quality, weather and climate variance and long hours of continuous use make for a very harsh use environment. Yamaha's Enduro models were designed and engineered with the durability and quality to withstand these extremely demanding use conditions. It was a product development process based on detailed surveys of use conditions and environmental factors made possible by the cooperative efforts of sales and service staff working together with local dealerships throughout the world. The survey data they gathered was then translated into ambitious development goals and evaluation standards that were tougher than ever before. The first Enduro model to emerge from this development project was named the "E8," and it was soon followed by the E15, E25, E40 and E48. The launch of these models set a new standard for durability and eventually won a following of devoted users worldwide. In the nearly 30 years since the launch of the first Enduro models, they have been improved constantly and continue to be manufactured today as highly matured and proven models.
The second major factor in the growth of Yamaha outboards into a renowned global brand was the move into the US market in 1980s. Compared to commercial-use outboards like the Enduro series, leisure-use outboards had developed along a different set of demands, among which lightness Yamaha 2-strokes, the reliable power of choice for users worldwide and compactness were important qualities. Fully aware of these fundamental differences, Yamaha Motor became the world's first outboard manufacturer to develop separate lines for commercial and leisure use. The development of Yamaha's leisure-specific outboards began in 1981, and within three short years the project produced a lineup of 12 2-stroke models ranging from 40 to 220 hp and exemplified by popular models like the 150A. With this lineup, Yamaha Motor went to the 1983 Chicago Boat Show and launched its entry into the important US market.
Success in the USA wins Yamaha's large horsepower outboards a place in the global market
Exclusive Yamaha technologies including highly durable paint finishes and anti-corrosion measures, along with the rugged durability honed in the world's most demanding commercial-use markets, helped win the Yamaha brand a reputation for durability and reliability in the leisure-use sectors of the US and other mature marine markets. This set Yamaha Motor on course to become the acknowledge world leading brand it is today. Yamaha Motor continues to value the use-specific, market-oriented approach that made it a global brand. While for the leisure-use markets Yamaha has led the way in developing a growing lineup of high-quality 4-stroke models, at the same time we continue to offer a proud lineup of 2-stroke models ranging from 2 to 250 hp for commercial-use oriented markets around the world. What's more, these models come in a very large number of variations tailored to specific regional and local requirements regarding factors like the actually use conditions and the types of boats they are mounted on. It is this Yamaha dedication to specific customer needs that makes us the brand of choice used and loved by people all over the world today.
The latest 2-stroke lineup unveiled with new graphics
Yamaha Motor has been manufacturing and marketing 2-stroke outboard motors for more than 50 years since the launch of the first Yamaha outboard in 1960. Outboard motors are used worldwide in a variety of environments and for a wide range of uses. The highest concentration in demand for 2-stroke outboards is in markets where commercial use exceeds leisure use. Because Yamaha wants to answer the needs of as many users as possible with reliable outboard motors capable of meeting the demands of the harshest use conditions and environments, we continue to provide a full lineup of 2-stroke models in Enduro and kerosene-fuel specs alongside our 4-stroke lineup. Now, this proven 2-stroke lineup has a new look. With the exception of a few models, the 2-stroke lineup features new graphics with prominent use of the Yamaha tuning fork logo as a symbol of the Yamaha brand's reputation for unmatched product reliability and durability.
The lineups of outboard models offered differ by country or area. Product names, coloring and graphics may also differ. The specifications of outboards shown on this website may be changed or production discontinued without notice.
Always read your owner's manual before using the outboard and be sure to use it properly.
Direct inquiries concerning Yamaha outboards to your country's distributor or local dealership..